One of the LEGO® Hidden Side designers,
Niek van Slagmaat
, recently shared some of his design process for upcoming set 70436 Phantom Fire Truck 3000 in a series of fascinating tweets. Rather than scroll through the twittersphere trying to take in all the details, we have unrolled (and lightly edited) the threads here for you, with permission from Niek.
Niek:
The new Hidden Side fire truck was my favorite Hidden Side set to design so far! With it releasing soon, I thought it would be cool to share some of my process on this set. It's important to make it VERY clear that this, as with all LEGO sets, was a team effort. I worked closely with a variety of people to make this vision work, from digital development teams to sparring partners, to quality and building instructions developers.
©
The LEGO Group
Here are my initial quick sketches from January 2019.
©
The LEGO Group
First off, some development pics on the truck. This is the first version I built of this final direction we ended up going with. It showed a lot of potential to make for a fantastic toy. Sadly, there was an incredible amount of structural issues to resolve.
©
The LEGO Group
A mech on the back meant very little space for the structure for the wheels. If a kid were to push down on the truck with all their might, it must not buckle. The back also had to look good without the mech. On the final set you can see how I tried my best to fill all the space.
©
The LEGO Group
With the structure on the truck figured out, I faced a lot of challenges with the mech legs. For the transformation it needs knees. So I built a stop for them to rest. The build had to be changed drastically as the long-term testing showed that they were a crucial weak point.
©
The LEGO Group
This is the last one of one of those tests. As you can see, this is pretty close to the final version. Because we were testing the functionality, the colors did not matter as much. So I had some fun making an M-Tron version. The lower leg design was changed to be more robust.
©
The LEGO Group
Speaking of colors, very late in the process we shortly considered dark red. I know it's weird, but I am happy we didn't. The design language for Hidden Side is something I am very involved in and keeping the good guy vehicles in bright colors is important in tying them together.
©
2020 The LEGO Group
This set was probably the hardest Hidden Side set for me to design. With the new direction for the story and the app and the inherent complexity of this as a toy, having to balance this many factors was mind-boggling. At times I had no idea if we could pull this off.
©
2020 The LEGO Group
Evidently, we did! I am extremely happy with the amount of fun I managed to pack into this set.
Nehmaar Reem, The Harbinger
©2020 The LEGO Group
Niek:
For the fire truck, I wanted to include some kind of villain, much like we did for the bus. Nehmaar Reem, The Harbinger, was a figure that I had been playing around with since late 2018. (He was not called that when I was designing him.)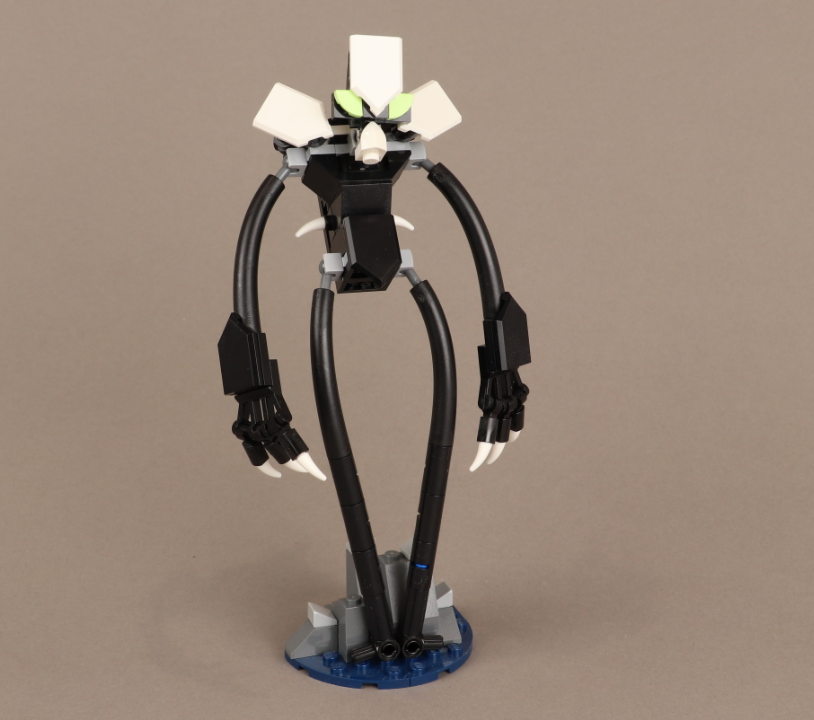 ©
The LEGO Group
The first version looked more alien and was intended to go with the lighthouse. The story changed a bit. :p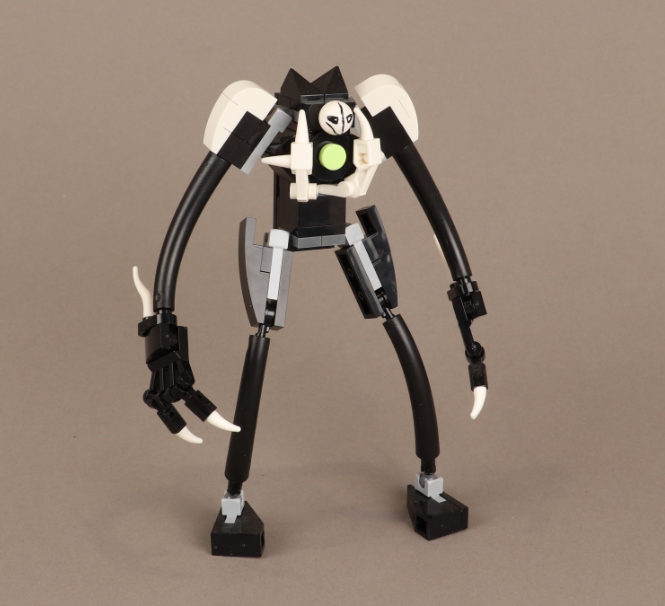 ©
The LEGO Group
For inspiration, I explored a lot of bizarre shapes and expressions. Articulation on a figure like this is a complicated subject. I wanted to make sure it had some articulation, but would be easy to prop up and would not fall apart after rigorous play.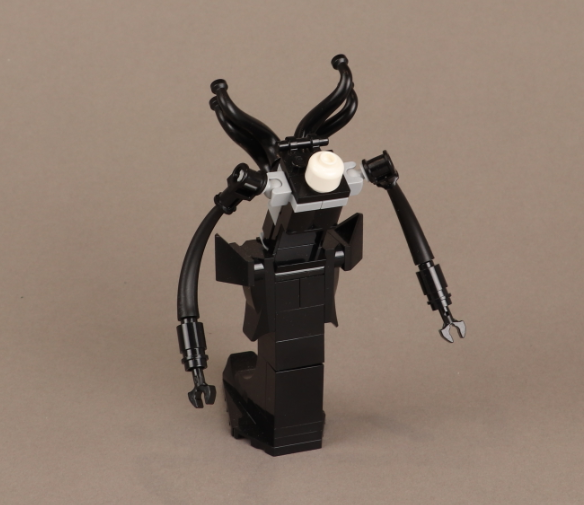 ©
The LEGO Group
Another take went more into the direction of a large cloaked figure. The minifig head combined with the weird proportions and ominous cloak and armor gives it a very eerie presence.
©
The LEGO Group
In order to tie it in with the aesthetic of the ghosts in the app, I explored a printed face that looked like a scaled up minifig head. This was a big hit with the other designers on the team and was combined with the first figure to make the final design.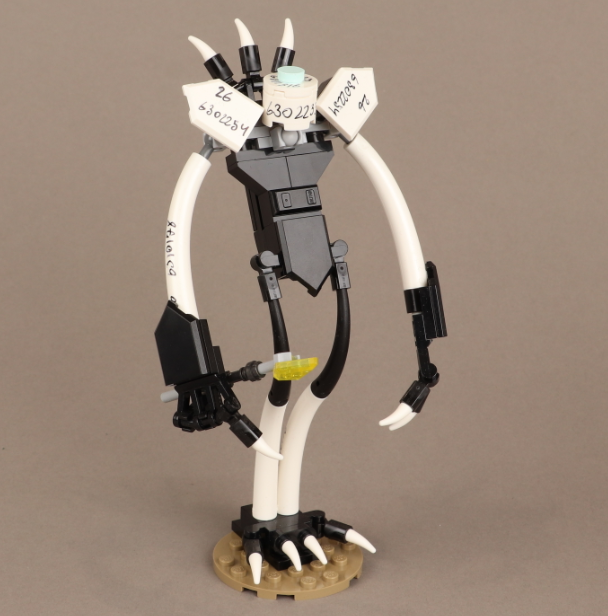 ©
The LEGO Group
The final design was then brought to life by some fantastic graphics that carry over into the minifig design. I love the fact that we could convey Nehmaar Reem's dimensional shifting in a very LEGO way.
Seymour TeeVee
This is TeeVee from the LEGO Alpha Team line of the early 2000s, and some Twitter users picked up on the inclusion of a new little character in Niek's design who looked remarkably like him...
Billy
: "
Ok but tell me more about that TeeVee looking fella?"
©
The LEGO Group
Niek:
This was the prototype I built to sell it in to my boss. It was a big success.
(Fellow designer)
Nick Vas
and I have been trying to get this guy into sets since 2016.
Cup of Maple: "What were the other sets you tried?"
Niek: Mostly stuff that never came out. That is how design works, sadly. I think he is in the perfect spot here though, he is J.B.'s lab assistant.
Niek: I think his name ended up being Seymour TeeVee. Not 100% sure on the spelling. [Ed.: We see what you did there! On the official description at least, the character is simply called TeeVee.]
Nick Vas: I'm so proud that he finally made it through! My hope is that this guy warms hearts, raises questions and inspires the builders of tomorrow, just like how TeeVee inspired us many many years ago.
Niek: He is my son and I love him.



Ben Davies: Do you know what happens to these prototype models once they're done being used?
Most of the time, they end up being recycled. We have limited space and, with the size of our design team, we build a lot of sketch models. Because I love documenting processes, my desk is normally covered and surrounded by sketch models until I can find the time to snap some pics.
Thanks to Niek for allowing us to re-post this intriguing insight into the design process and for taking the time to take so many photographs of the stages. 70436 Phantom Fire Truck 3000 is due to be released in the upcoming summer wave of sets priced at US$59.99/ €69,99/ £59.99 and contains 760 parts.
Help New Elementary keep publishing articles like this.
Become a Patron!
Big up to our 'Vibrant Coral' patrons: Iain Adams, Geppy, Chris Cook, London AFOLs, Gerald Lasser, Big B Bricks, Dave Schefcik, David and Breda Fennell, Huw Millington, Neil Crosby, Antonio Serra, Beyond the Brick, Sue Ann Barber & Trevor Clark, and Kevin Gascoigne. You're all awesome!
As an Amazon Associate we earn from qualifying purchases. Amazon USA:
Amazon.com
Canada:
Amazon.ca
UK:
Amazon.co.uk
Deutschland:
Amazon.de
All images are © New Elementary unless otherwise attributed.