After the reveal of LEGO® Harry Potter 75978 Diagon Alley just a few days ago, it's time to take a closer look at which of the 5544 elements are new. Some were already mentioned in my last article but now we have a complete list, based on the inventory on Rebrickable, which you can see after my summary.
New moulds in LEGO Diagon Alley
In Ollivanders Wand Shop we find the exciting new mould of a box to store wands. With 10 included, the set includes many more than I spotted on the pictures: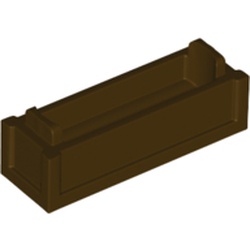 Box / Crate 1 x 3 in Dark Brown (6310366 | 69066)
The sundae glass from Florean Fortescue's Ice Cream Parlour is another new part releasing this September. Two of these cups are included: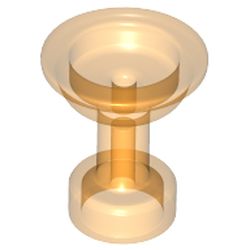 Equipment Ice Cream Sundae Glass in Transparent Bright Orange/ Trans-Orange (6323033 | 68504)
New printed parts in set 75978
Even though the set only comes with a small number of new printed pieces (excluding the minifigures), two of them look really useful. I'm talking about the elements that were introduced to make the windows of Quality Quidditch Supplies and Flourish & Blotts. Both are designed to be used repetitively and make one seamless window. (We couldn't test the seamlessness yet physically.)
6x Brick 1 x 2 x 5 with Red Windows print in Transparent/ Trans-Clear (6315044 | 69355)
2x Panel 1 x 6 x 5 with Green Windows Print in Transparent/ Trans-Clear (6315047 | 69356)
The other new printed element included is a decorative name plate for the set. Everyone who wants to display the built set will be glad to find a sticker was not used for this.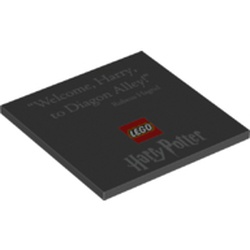 Tile 6 x 6 with Bottom Tubes with 'Welcome Harry, To Diagon Alley', LEGO Logo, and 'Harry Potter' Print in Black (6315049 | 69357)
Recolours in Harry Potter 75978
Here are the new colours of existing parts! Let me first introduce some classic bricks that come in earthy shades now:
Brick 2 x 2 Corner in Sand Yellow/ Dark Tan (6310830 | 2357)
Slope 33° 3 x 1 in Dark Brown (6300222 | 4286)
Plate Round 1 x 1 with Open Stud in Sand Yellow/ Dark Tan (6300322 | 28626)
For the exterior of Weasleys' Wizard Wheezes, there are some colourful new pieces:
Brick Arch 1 x 5 x 4 Inverted in Lavender (6277130 | 30099)
Brick Special 1 x 4 with Masonry Brick Profile in Lavender (6311131 | 15533)
Window 1 x 2 x 2 Flat Front in Bright Orange/ Orange (6311132 | 60592)
And some more are introduced for the details in the interior of the joke shop. Both of these pieces came only as printed pieces before. Note that it's not the normal Minecraft head, but the "baby" version:
Brick Round 2 x 2 Sphere with Stud in Spring Yellowish Green/ Yellowish Green (6293305 | 37837)
Minifig Head Special, Small Cube (Baby) [Plain] in Dark Green/ Green (6214446 | 35530)
Door fans will have a great time opening this set as Door 1 x 4 x 6 with 4 Panes and Stud Handle (60623) comes in three new colours:
Earth Green/ Dark Green (6314882)
Dark Red (6062650)
Cool Yellow/ Bright Light Yellow (6315914)
To fill the inventory of the Quidditch supply shop we get these accessories in new colours:
Equipment Brush / Broom in Dark Brown (6315678 | 4332)
Food Ice Cream Cone in Dark Orange (6134251 | 11610)
Further minifigures accessories included are:
Book Cover in Black (6283610 | 29167)
Minifig Head Special, Skull in White (6249256 | 43693)
Weapon Sword Hilt with Dragon Head (Ninjago) in Black (6315915 | 36017)
The triangular tile must be popular with our readers, as this new Sand Green version has been pointed out to us a few times already. Eight of these come with Flourish & Blotts.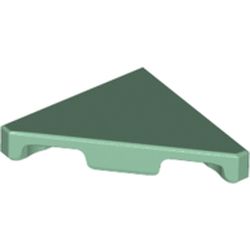 Tile 45° Cut 2 x 2 in Sand Green (6262238 | 35787)
New minifigure parts in Diagon Alley
All the new minifigure parts are in Tobias' list below, but first here are some highlights. I think it's worth mentioning that these two torsos are the perfect addition to 75956 Quidditch Match as they represent Hufflepuff and Ravenclaw, the two houses that didn't have Quidditch minifigures at the time.
MINI UPPER PART, NO. 5333 in Bright Yellow/ Yellow (6322961 | 76382)
MINI UPPER PART, NO. 5334 in Earth Blue/ Dark Blue (6323000 | 76382)
For everyone collecting monochrome minifigures it will be great news that the Gilderoy Lockhart minifigure will come with a new colour for legs: Medium Lavender.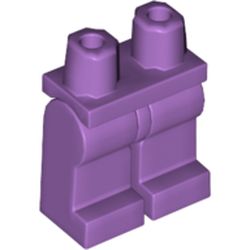 Legs and Hips [Complete Assembly] in Medium Lavender (6167628 | 73200)
Those are the most interesting new pieces in 75978 Diagon Alley; check out the full list of new pieces below. Which is your favourite and which are you looking forward to using in your own creations?
All new and exclusive LEGO parts in set 75978
Index of categories
Bricks
Back to Index
Bricks Curved
Back to Index
Bricks Round and Cones
Back to Index
Bricks Sloped
Back to Index
Bricks Special
Back to Index
Flags, Signs, Plastics and Cloth
Back to Index
Minifig Accessories
Back to Index
Minifig Heads
Back to Index
Minifig Headwear
Back to Index
Minifig Lower Body
Back to Index
Minifigs
Back to Index
Other
Back to Index
Plates Round and Dishes
Back to Index
Tiles Special
Back to Index
Windows and Doors
Back to Index
All text and images are © 2020 The LEGO Group unless otherwise attributed. Text © New Elementary