This year marks 40 years since The LEGO Group (TLG) launched the FABULAND theme. In total, 99 Fabuland sets were released from 1979 until 1989, plus the theme featured licensed products such as books, clothing, key rings and for the first time an animated TV series. To celebrate this, we're examining the surprising legacy that this theme for 3-7 year olds has had upon the elements of the LEGO® System to this day.
We thought it would be interesting to take a look at the influence of this theme by finding some current LEGO elements that started their lives as Fabuland elements.
FABULAND SHIP WHEEL
We start with the recent example that inspired us to find out a little more about Fabuland elements and their longevity.
In the LEGO Ideas set
21317 Steamboat Willie
the boat's wheel is called Fabuland Ship Wheel (Design ID 52395). Yes, the element's official name actually mentions Fabuland, as several do. BrickLink call it
Boat Ship's Wheel
. It appeared for the first time in Medium Stone Grey [TLG name]/ Light Bluish Gray [BrickLink name] but usually appears in Reddish Brown.
This is an updated version, introduced in 2016, of the original (Design ID 4790), shown here in Bright Red/ Red, the original colour for this part but now the rarest. The original first appeared in 1985 in set 3673 Steamboat, also known as Paddle Steamer.
The only obvious difference is that the original had a pin connector that was complete, rather than the split pin that appears in the current version.
FABULAND POT
Minifigure, Utensil Pot Cauldron 3 x 3 x 1 & 3/4 with Handles
. It has only ever appeared in Black, which is a shame.
After Fabuland was retired as a theme in 1989, the mould continued to be used but at some point around 2008 the Fabuland logo seen on the underside was erased from the mould. You can find both types of pots on the secondary market, but they are not listed separately. Obviously all new sets (e.g. 75984 Hogwarts Great Hall released in 2018) have the version shown on the right supplied.
FABULAND TUB
Fabuland Tub (Design ID 4424) was first seen in 1982 in two colours: Bright Yellow/ Yellow in 3637 Gertrude Goat's Painter's Truck, and in the
very rare colour Light Brown
/ Fabuland Orange
within 3710 Peter Panda Takes a Bath. Unlike the aforementioned pot, it has appeared in many colours - 11 in total!
It shown on the left in Earth Orange/ Brown but this mould was phased out in 2008/2009 when a new version (64951) replaced the older style, shown here on the right in Reddish Brown. At first look it may seem that the element has not changed much.
In fact the new mould for this element included a redesign to the base to give it an axle hole through the centre, and the tube provides greater clutch as well.
The two versions are called
Container, Barrel Half Large
and
Container, Barrel Half Large with Axle Hole
on BrickLink.
FABULAND SIGN
Fabuland Sign on Pole (BrickLink ID
x222
) first appeared in 1987 in 3719 Bus Stop and it had a bus sticker to apply as you can see on the Bright Yellow/ Yellow version. Its most recent appearances was in a series of Belville sets 2002-4 in Medium Reddish Violet /Dark Pink.
While the exact mould of the Fabuland Sign is no longer in production, it is fair to say that the element heavily influenced Round Sign 1X5X3 (13459), an element from 2013. The slightly smaller and tidier Round Sign has been produced in Earth Blue/ Dark Blue, Black and White thus far.
LAMPPOST
The beautiful Fabuland Lamp Post (
4781
) was only produced in one colour, Grey/Light Grey, and came in four Fabuland sets in 1986 and 1987 before vanishing until a snap re-appearance in 2000 as part of 4166 Mickey's Car Garage.
2039
) had some design alterations to give it wider use by removing the lamp part and modifying the base to a 2x2 footprint that fit into the system better. This version was in a host of sets from 1987 until 2012.
In 2011, the design changed again with a slight overlap in 2011/12 for sets already in production. The new mould altered the shape and number of the lower flutes on the post from six to four. Lamppost 2X2X7 (
11062
) is the reincarnation of the original lamppost currently in use and has been made in White and Black.
UMBRELLA
Fabuland's Umbrella (BrickLink ID
x845
) first appeared in 1980 in both Bright Red and Bright Yellow. 3601 Elton Elephant included a Yellow Fabuland Umbrella in 1981, a set where Elton was clearly being stood up by his date.
In 1993, the Paradisa set 6409 Island Arcade contained a Parasol (
4094
) that was very similar to the original Fabuland Umbrella, shown in Medium Reddish Violet below.
On BrickLink, the current version with the stud goes by the name
Umbrella Top with No Bottom Flaps, 6 x 6 with Top Stud
whilst the Fabuland original is
Fabuland Umbrella Top with No Bottom Flaps, 6 x 6 with No Top Stud (only a nub)
.
6 and 6.6L BAR
The 6.6L Bar with Stop Ring or Standard Ø3.18 X 53 (
4095
) first appeared in 1980 in three different Fabuland sets in Bright Red and Bright Yellow. This element continued to appear in a host of other colours until its last appearance in 2011, in White, within 9348 Community Minifigure Set.
In 2006 another similar element called Stick 6M W/Flange (
63963
, 18274, 93790, 28921) was released in Medium Stone Grey/ Dark Bluish Gray within 10175 Vader's TIE Advanced. The obvious difference is the length: reduced from 6.6L to 6L, and this second version is now the element that remains in use.
FABULAND WIND GAUGE
Fabuland Wind Gauge (
x246
) only appeared once in a Fabuland set; a Bright Yellow one came with 3671 Airport which was released in 1984.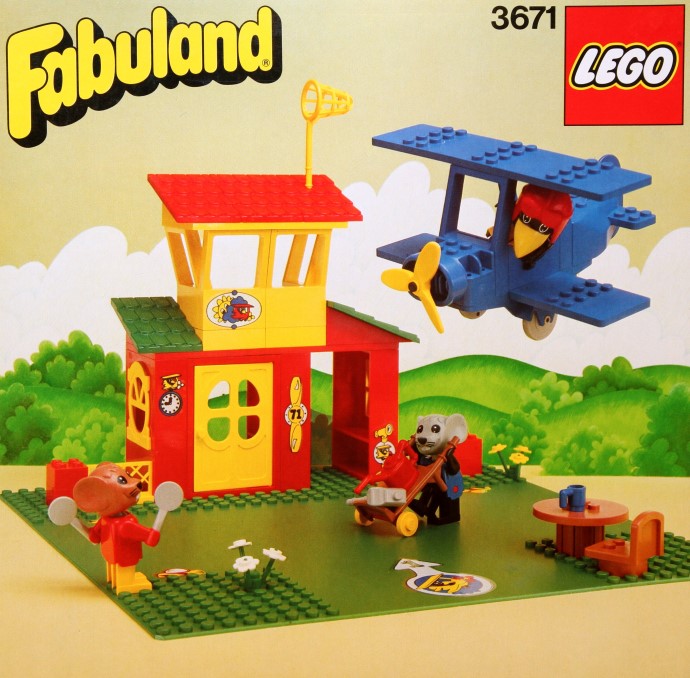 The same Fabuland Wind Gauge also appeared in Flame Yellowish Orange/ Bright Light Orange in three sets between 2005 and 2008, two of which were from the Sponge Bob Squarepants theme - 3827 Adventures in Bikini Bottom and 3831 Rocket Ride.
It seems that the Fabuland Wind Gauge influenced an accessory that first appeared in 2016 with one of the LEGO Minifigures from Series 16. White Net No. 1 (
24086
) belonged to the Animal Control Officer, presumably to help recapture her escapee skunk.
BREAD
Back in 1982, a little rabbit called Rufus was strolling along carrying two baguettes in his basket, and LEGO was changed forever! Nom nom.
White Bread (4342) first appeared in the Fabuland set 3702 Rufus Rabbit in Brick Yellow/ Tan and since then the element has remained unchanged. Clearly LEGO felt that they had baked the best baguette first time, and decided not to mess with perfection.
Since then White Bread has appeared in three more colours;
Light Yellow
Light Orange Brown/ Earth Orange
Medium Nougat/ Medium Dark Flesh
At present the only two active colours are Brick Yellow and Medium Nougat.
FABULAND BROOM
The Fabuland Broom (
4332
, 90459) first appeared in Light Orange Brown/ Earth Orange in six Fabuland sets released in 1982, including 3784 Hugo Hog the Tinker.
This element also appeared in Earth Orange/Brown and Black between 1997 and 2004 mainly in sets from the Castle and Harry Potter themes. After the big 2004 colour change, the Fabuland Broom appeared in Reddish Brown and then finally Earth Green/ Dark Green as an accessory with Draco Malfoy from the Harry Potter Collectable Minifigure Series released in 2018.
FABULAND TELEPHONE HANDSET
x659
) only ever appeared in Bright Red and was supplied in six different Fabuland sets between 1984 and 1987. It was 3.5 studs in length and had a small hole on one of the curved surfaces of the handset. Only the 3.18mm central bar is an official connection as the ends of the handset had a curve preventing perfect 'clutch' with studs.
Telephone handsets did not reappear until 1994 when Telephone Receiver (
6190
) first appeared in Medium Green within two Belville sets, by which time the original handset was long out of production. The newer Telephone Receiver bore a definite resemblance to the original Fabuland Telephone Receiver but is a half-stud smaller in length at exactly 1x3, and has no hole. In addition, the curved ends are perfect anti-studs.
Did we miss any? Let us know in the comments!
All content represents the opinions of New Elementary authors and not the LEGO Group. All text and images are © New Elementary unless otherwise attributed.